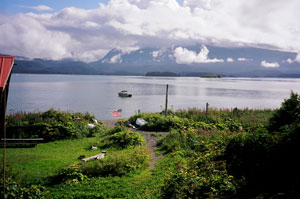 How do I get to Homer?
Take the Seward Highway from Anchorage. It goes around Turnagain Arm, up through several passes, along Kenai Lake and river, through Soldotna, Ninilchik, Anchor Point and over the hill into Homer. The driving distance from Anchorage to Homer at the "end of the road" on the southern end of the Kenai Peninsula is about 225 miles. If you are driving, you should allow about 4 1/2 to 5 hours, plus extra time if you plan to stop to eat or shop on the way. There are two airlines that have regular flights between Anchorage and Homer multiple times each day.

How do I get to Yukon Island?
Once you are in Homer, follow the signs to the end of the Homer Spit, a 4.5 mile narrow peninsula jutting out into Kachemak Bay. At the end of the Spit is the Homer Small Boat Harbor, lots of little shops and businesses. Homer is famous for its halibut and salmon fishing.
Almost a dozen water taxis operate from the Spit.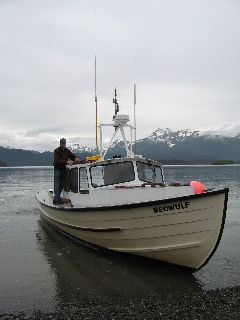 For those scheduling an event, once we have worked out the dates and details, we will assist you with finding and reserving a water taxi company that best fits your needs. Current approximate costs are $65 to $80 per person round trip. Once things are set, we will give you information about which water taxi has been reserved, what the cost is and where to meet them on the Homer Spit or in the harbor. While crossing times vary depending upon the boat and the weather, it usually takes about 20 minutes to go from the Homer harbor to Yukon Island.

What should I bring?
When you register for an event or course already scheduled, you will be given or sent information about what to bring. Most often, this includes clothes, toiletries and personal items. Alaska summer weather varies greatly, so the best idea is to dress in layers so you can add or subtract as the weather dictates.
We have solar electric that allows recharging of laptops or other small electronic devices. There is plenty of power for cameras and computers, including C-Pap machines. Many cell phones do not dependably work but we hope you might enjoy being away from telephones anyway. We do have a phone system for emergency use.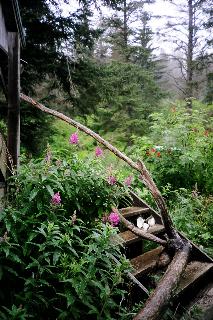 What not to bring?
Because we have an alternate energy system, please leave things like hair dryers, curling irons, and appliances that require a great deal of electricity at home. Call if you have questions about specific items. We have nesting birds and other wildlife, so no dogs are allowed. We have good drinking water on the island so you don't need to bring your own drinking water.

Where is the nearest store?
Yukon Island is located about six miles from Homer and about seven miles from the village of Seldovia. Homer has a number of grocery and supply stores.

What is there to see and do in Homer?
If you have a chance to stop by the Islands and Ocean Center; it is great. You can find it along the Bypass. There are dozens of art shops in Homer as well as eateries, both in Homer itself –especially along Pioneer Avenue- as well as on the end of the Spit. The Pratt Museum on Bartlett Street is very interesting and I love Will and Sally's Old Inlet Book Store on Main Street--turn toward the water from the Bypass. Homer has a very nice visitors center also on the Bypass.

What are some other websites I can look at?
Kachemak Bay State Park: dnr.alaska.gov/parks/units/kbay/kbayl.htm
About the archaeology on Yukon Island (we have hosted more than a dozen summer of digs and field work on our homestead property): www.alaskool.org/resources/regional/sc_reg_pro/population.html
Map of Yukon Island (takes a long time to open):
http://www.asgdc.state.ak.us/maps/cplans/cook/grs_kb/KB08YukonIslandWest.pdf
Homer Chamer of Commerce: www.homeralaska.org
Center for Alaskan Coastal Studies: www.akcoastalstudies.org
Homer Alaska Visitor's Guide: www.akms.com
Kenai Peninsula: www.kenaipeninsula.org/